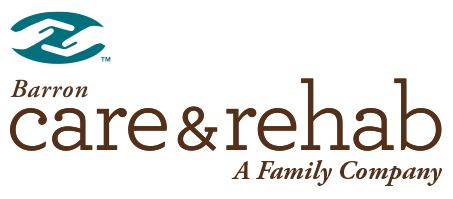 Visitation Guidance
These rules are prepared from State DHS guidance.
Care & Rehab Barron understands that COVID-19 poses a significant threat to your loved one(s) here and we are complying with federal and state guidance for their health and safety.  We also understand the need to visit your loved ones and this document outlines our commitment to accommodate and support visitation, including visits for reasons beyond compassionate care situations, based on the following guidelines provided by federal and state authorities.
Visitation can be conducted through different means based on a facility's structure and residents' needs, such as in resident rooms, dedicated visitation spaces, outdoors, and for circumstances beyond compassionate care situations. Regardless of how visits are conducted, there are certain core principles and best practices that reduce the risk of COVID-19 transmission:
Core Principles of COVID-19 Infection Prevention
Screening of all who visit the facility for signs and symptoms of COVID-19 (e.g., temperature checks, questions or observations about signs or symptoms), and denial of visitation of those with signs or symptoms
Hand hygiene (use of alcohol-based hand rub is preferred)
Face covering or mask (covering mouth and nose)
Social distancing at least six feet between persons
Visitor education on COVID19 signs and symptoms, infection control precautions, other applicable facility practices (e.g., use of face covering or mask, specified entries, exits and routes to designated areas, hand hygiene)
Cleaning and disinfecting high frequency touched surfaces in the facility often, and designated visitation areas after each visit
Appropriate staff use of Personal Protective Equipment (PPE)
Resident and staff testing conducted as required.
OUTDOOR Visitation
While taking a person-centered approach and adhering to the core principles of COVID-19 infection prevention, outdoor visitation is preferred and can also be conducted in a manner that reduces the risk of transmission. Outdoor visits pose a lower risk of transmission due to increased space and airflow. Therefore, all visits should be held outdoors whenever practicable. Aside from weather considerations (e.g., inclement weather, excessively hot or cold temperatures, poor air quality), an individual resident's health status (e.g., medical condition(s), COVID-19 status), or the facility's outbreak status, outdoor visitation can be facilitated routinely. We have accessible and safe outdoor spaces for visitation, such as in our back patio, parking lots (if needed), including the use of tents. We have a process to limit the number and size of visits occurring simultaneously to support safe infection prevention actions (e.g., maintaining social distancing) as well as reasonable limits on the number of individuals visiting with any one resident at the same time.  Visits must be scheduled with Community Life Coordinator.
INDOOR Visitation
Indoor visitations are conditional upon the following criteria and subject to change without notice.
There has been no new onset of COVID-19 cases in the last 14 days and the facility is not currently conducting outbreak testing.
Visitors are able to adhere to the core principles (listed above).
Limit of visitors per resident visit at one time is 2 and the total number of visitations happening in the facility at one time is 1. Visitation length is 30 minutes to 1 hour max depending on the visitation schedule and staffing.
Visits are scheduled in advance with administrative staff to provide time to make proper arrangements. Contact Community Life Coordinator.
Visitor movement in the facility is limited to the most direct route to designated visitation area or resident's room. Visits for residents who share a room will not be conducted in the resident's room.
Facility may still restrict visitation for the following reasons:
due to the COVID-19 county positivity rate,
the facility's COVID-19 status,
a resident's COVID-19 status,
visitor symptoms,
lack of adherence to proper infection control practices,
or other relevant factor related to the COVID-19 Public Health Emergency.
ELECTRONIC Visitation
Considered the safest form of visitation, Care & Rehab Barron offers and encourages use of:
resident phones so you can call anytime without scheduling
Our intercom system that works well for window or other barrier type visits.
Video calls. Zoom, Facebook Messenger, ect…
For more information about our visitation services and options or to schedule a visit of any type, please contact or Community Life Coordinator at extension 500 during normal business hours.
Our highest priority is to keep your loved ones as safe as possible by following federal, state and local public health guidance. We thank you for your understanding and cooperation.
Administration.
Care & Rehab – Barron
(715) 537-5643
660 East Birch Avenue
Barron, WI 54812